Margo Leadbetter: Elegant, Timeless Fashion Icon
Regularly voted one of the best sitcom characters ever created, the appeal of The Good Life's Margo Leadbetter is an enduring one.  Approaching 50 years since Margo first graced our screens — floral print mumus, kaftans and colourful headbands to the fore — her appeal as a comedy creation and a fashion icon, has never diminished.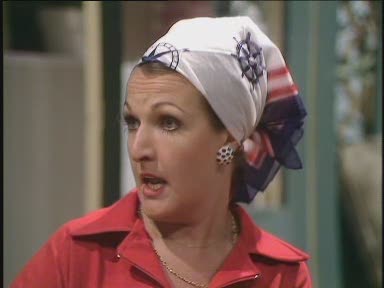 In my role as co-host of the Sitcom Archive Deep Dive Overdrive podcast, I take a weekly trip over to 'Fashion Corner' to appraise the fabric fabulousness of the 1970s as modeled by Margo.  It's a regular part of the show, as we work our way through each episode, forensically deconstructing everything from the comedy, writing and performances to the fashions and vernacular of the time .
Fascinatingly, the costume budget for the show, which ran from 1975 to 1978, was placed almost entirely in the clutch bag of actress Penelope Keith to spend along London's home of fashion, Regent Street. 
Speaking at the Cheltenham Literature festival in 2011, Keith revealed that there was a real fear amongst the production staff that unless the full costume budget was spent, it would be cut.  
The characters of Tom and Barbara required little attention from the costume department, saving the production a small fortune by continuously re-wearing the same garb for all four series; fixing and stitching any issues, just like the Goods. As the show progressed, Margo's rewearing of pieces became few and far between, with new dresses, hats and jackets introduced in each episode.
We see a great deal of flowing, maxi dresses and evening gowns; whatever the event, Margo dresses for occasion and aspiration.  The old adage 'clothes make the man' (or woman), is appropriate to describe one of Surbiton's leading lights.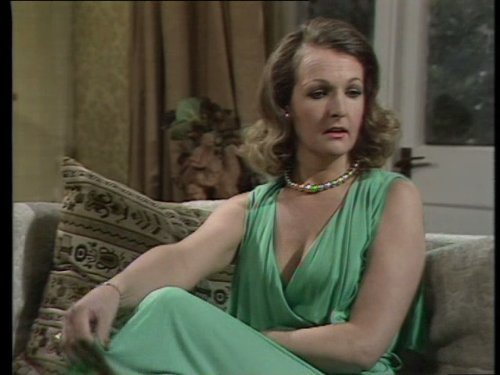 Never do we see Margo slobbing around the house in athleisure wear.  Quite the opposite: she is often dressed up to the nines for such simple pleasures as an afternoon G&T in the living room with Jerry.  Each hobby requires an element of couture in crafting a uniform, and while riding with the Pony Club, Margo is fully kitted out in pristine jodhpurs, helmet and hunt coat.
An irrepressible snob (but one with a big heart), Margo is variously appalled that Barbara no longer has cause to dress up, now that the Goods have left the consumerist lifestyle of the rat-race and embarked on a journey of self sufficiency.  Margo pities Barbara and considers her brave for giving up a facet of life that she feels is evidence of one's status in society.
Of course, Barbara is more than willing to give up that frivolity – despite a tinge of resentment setting in on the odd occasion, no doubt magnified by Margo's ostentatious attire.
Margo's knack (or rather Keith's aptitude) for matching up garments and accessories is very much on display.  The clothes take on a life of their own and really do highlight the character's attitude towards looking one's best.  Headscarves, hats, floral brooches and bangles complete many an ensemble, displaying with a flourish the opulence of the Leadbetter's middle class existence.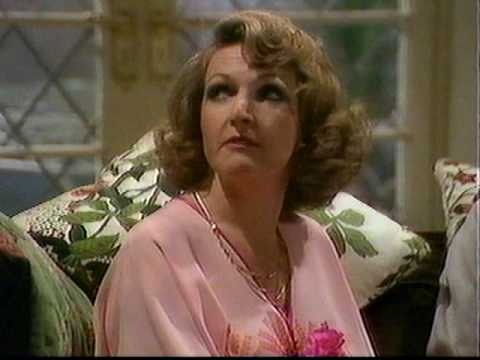 In early episodes, Margo's wardrobe embraces the typical seventies palette of purples, greens and oranges — vibrant, often gaudy combinations of prints and shades —  paisley, geometric and florals.  As time ticks by, later series show Margo following the trend of earth colours – rich browns, creams and yellows, and Laura Ashley designs.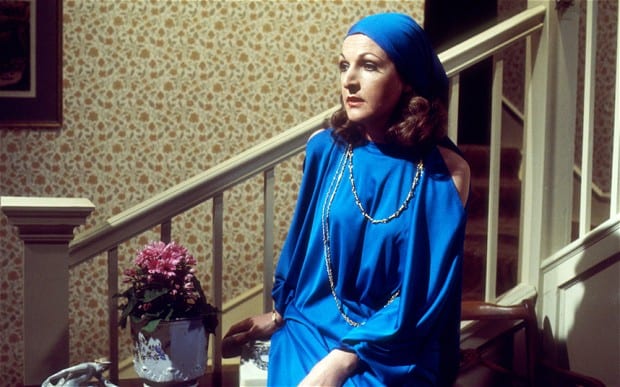 Contrastly, Barbara's only real chance to escape the drudgery of her self-sufficiency wardrobe is her floaty, floral "posh frock" — representing the last vestige of her life as a middle-class house wife in The Avenue. 
The dress gets an airing in the first series when Tom takes Barbara out for dinner (a kind of last supper), and then again at the end of series three when she is feeling unnoticed by Tom and frustrated at no longer being seen as a woman.  Donning the dress to seduce Tom, her self-serving husband is oblivious to her feelings and tragically, she tears the dress mid-flounce!  This compounds Barbara's anger and sadness, although Tom assures her that she doesn't even need to consider those things anymore.  Things go from bad to worse when glamorous dinner guest Eileen (an old friend of Barbara) arrives dressed to the nines in a beautiful pistachio-coloured halter neck satin dress, reducing Tom to a snivelling flirt.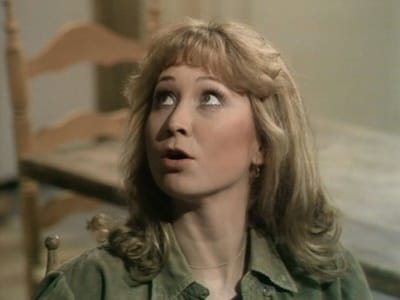 Tom does eventually realise the depth of ill feeling and apologises to his wife with a gift of a new posh frock — a stunning cream, halter neck, full-length dress.  With dainty flowers embroidered around the neck, and nipped in at the waist, this dress makes a definite statement about Barbara's femininity, and holds its own against any of Keith's wardrobe selections.
Despite a relative lack of costume curation for Barbara, her day-to-day work clothes have an understated, utilitarian elegance to them, thanks in large part to Felicity Kendal.  She may have been the inaugural winner of 'Rear of the Year' but she can certainly rock a pair of mucky overalls!  Teamed with a black polo neck top, a head scarf and a pair of chunky black glasses, the character of Barbara has titillated generations since 1975 and herself remains a fashion icon.
A regular 'Fashion Corner' mention, Jerry's jacket and slacks are similarly iconic representations of late 1970s male fashions.  While he is suited and booted for work at the drawing board, casual Jerry often dons his tan leather jacket and checked slacks for leisure – whether entertaining guests, enjoying afternoon G&Ts or encouraging local businesses to part with their wares in return for promotion in the Observer.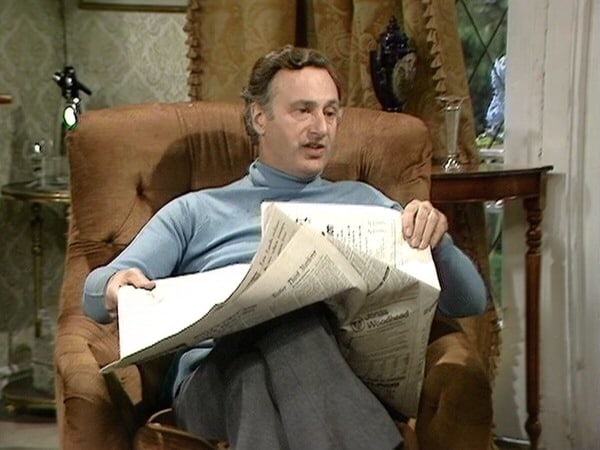 Paul Eddington's Jerry is the archetypal man about town, and cuts a dashing figure.  Even his Mr Rogers-esque red cardigan — which would look decidedly naff on many men — gives Jerry a wise and mature air, while doubtless giving Margo a chance to have the leather jacket dry cleaned.
Tom Good, played by Richard Briers, is the least dynamic in the wardrobe department, and often gets overlooked in Fashion Corner.  Following his life-changing decision to resign from his upwardly mobile career as a draughtsman, Tom's wardrobe changed radically.  Out went the suits, and shiny shoes, and in came the perennially moth-eaten blue jumper and anorak. 
Tom even repurposed his old dinner jacket as working clothes, to be used while creosoting the fence!
Tom did show his good side, however, when he sold his best suit and expensive watch to buy Barbara the aforementioned new posh frock.  Any attempt by Tom to hoist himself aboard the winner's podium at Fashion Corner is met with a swipe of the hand (especially by my co-host, who has what borders on a pathological hatred for the character!)
Sadly, even when Tom tries to break free of the sartorial limitations enforced on him by a self sustainable life, he misses the mark, evidenced by his going 'double denim' in an episode where he is gifted free clothing by a local business!  Tom's attempt to cat walk around the kitchen is slightly uncomfortable, like a 40 year old dad not coping well following a particularly messy, mentally scarring divorce. 
Tom's double denim faux pas aside, the show's eclectic fashion selections still very much stimulate modern day admiration and imitation.  The wardrobe on The Good Life is almost a character in its own right, and it's no wonder that the show continues to both delight viewers and inspire fashions to this day.  
Subscribe to the SADDO podcast wherever you listen to your podcasts, or listen in your browser at https://saddo.club to hear me discuss the enduring fashions of the show weekly.
Alison
---
The Sitcom Archive Deep Dive Overdrive is a brand new podcast that week by week, delves into every episode ever made of our favourite situation comedies.
Starting with all 30 episodes of 'The Good Life', SADDO can be found wherever you listen to podcasts.